We Offer as Well


Bond Classic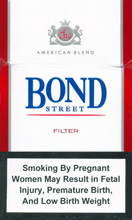 Disclaimer: actual design and health warnings may differ from the photos on the website depending on the country where the product is manufactured.
0.9 mg Nicotine
12 mg Tar Level
Cigarette Carton

10 packs = 200 cigarettes
Minimum 3 Cartons
Quant.

of cartons

Price

per 1 carton

$ 36.90
Cigarette Rate

(62 votes)
Bond Classic Box Cigarettes made under authority of Philip Morris Products SA.